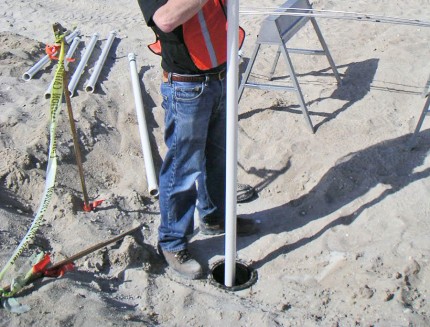 EnviroFlux offers our clients a turnkey mass flux analysis service. Our core technology is our patented Passive Flux Meter™ (PFM) solution. A typical PFM project includes the following steps:
Site characterization consultation

Decide on the number of PFMs based on the monitoring well configuration and screen lengths (PFMs are typically 5 feet long).
Determine the number of samples needed per PFM to match the desired resolution (typically 2 to 6 samples per PFM).
Provide EnviroFlux with well diameters, well construction material (for example PVC), and depth to the target well screens.
Provide EnviroFlux a list of contaminants of interest.

Installation, retrieval, and sampling of PFMs
The PFMs are installed, retrieved, and sampled by the client. The PFMs are usually left in the monitoring wells from one to four weeks. In most cases the installation and retrieval/sampling of the PFMs each require only one-day site visits.
Lab analysis
The samples are sent to the EnviroFlux lab in Gainesville, FL for analysis. The samples are analyzed to determine the concentration of contaminants absorbed into the PFM and the amount of tracers leached from the PFM.
Report
EnviroFlux provides a detailed data report indicating the mass flux results for all of the zones in which the PFMs were deployed.